September 25, 2013
Sudbury – Yesterday, the Education Quality and Accountability Office (EQAO) released the results of Ontario's grade 9 students from the 2012-2013 provincial testing. The Conseil scolaire catholique du Nouvel-Ontario (CSCNO) is very pleased with the steady improvement of its secondary school students' results in mathematics over the last five years.
The EQAO results indicate that CSCNO grade 9 students improved their success rate in the academic mathematics program, with 63% of students meeting provincial expectations, a 15% increase since 2009-2010. In the applied mathematics program, 42% of students attained levels 3 or 4, a 7% hike in the last year. These results, which are in line with the general trend across the province among Francophone grade 9 students, reflect the need for intervention and enhanced teaching strategies for improvements in student achievement in this field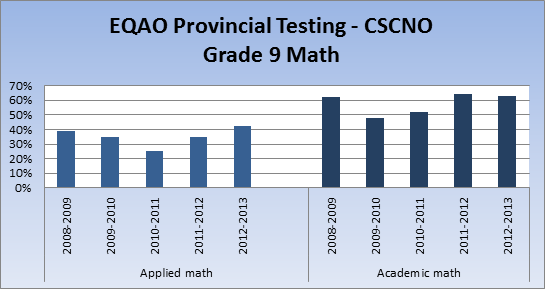 "Our secondary school students greatly benefit from our teaching strategies, continued support and pedagogical initiatives. Although we witnessed a noted improvement in academic and applied mathematics, the results of our grade 9 students indicate the importance of assisting our staff and helping our students attain a higher level of success," explained Mrs. Nicole Sonier, Executive Director of Education at the CSCNO.
"Our objective, as always, is assisting each of our students in reaching or exceeding provincial standards as they move forward to taking their place in society. The commitment of our school staff enables us to attain this goal and continue to offer quality programs," stated Mrs. Lyse-Anne Papineau, CSCNO Director of Education. "Motivated by the desire to remain a top performing school board, we will work to perfect our teaching strategies in order to increase our students' success rate and to offer to our families the quality French Catholic education that they have come to expect for their children."